Before setting up your invoice make sure that your business details like address, ABN etc have been added to inTennis. This information shows up on your invoice. Click here for setting up your business details.
Now that your business details have been added, we can continue setting up your invoice. Click on 'Invoice' from the top menu bar and then select 'Setup Invoice' as shown below:

This will open the invoice setup window. Follow the instructions mentioned below to enter the details of your invoice.
Payment instructions: This info will be displayed at the bottom part of your invoice. You could mention your bank account details if you want your customers to pay the invoice by Direct Deposit.
Invoice logo: To add a logo, you would need to click on the 'Browse' button and point to the picture/business logo on your computer. The logo can be jpeg or png format.
Pay invoice Online: Select this option if you would like to add a link to the email message when you send out an invoice. Your customers can click on the link and pay the invoice online. You need to sign up with an online payment provider if you want this feature. Kindly contact SportLogic Support if you want to add this to your invoice.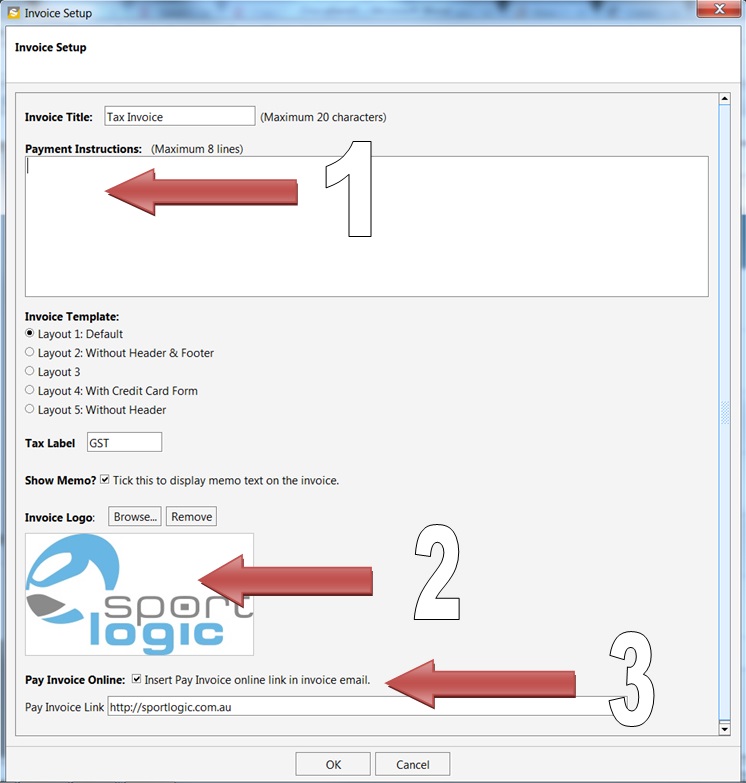 The picture below shows an example of an invoice generated using inTennis.