SportLogic can help you to manage your coach's/ teacher's wages according to their lesson schedules and pay-rates. You can generate an activity pay rate report to assist you in the business' payroll task. The report will also detail the coaches' attendance in the class sessions and private lessons, effectively providing a helpful timesheet.
This Manage Wage function is particularly handy to calculate fortnightly and monthly wages.
Manage Coach/Teacher's Wage
Once you have configured the coach's pay rate, you can start using the manage wage function in 3 easy steps:
List coach or teachers' activities within a date range
Assign pay rate to activities
Export activities with pay rate information to a spreadsheet
From the top menu bar, select Coaches -> Manage Wages.

1. List a Coach's schedule or activities
Perform a search on all the activities for a coach in a given date range (up to 31 days).
A list of all the coach's activities according to the date range selected will be shown as below.

2. Assign Pay Rate
Now you can assign a pay rate to each of the activities.  You could either bulk assign the pay rate manually, or do an auto-fill. Auto-fill allows the system to auto assign a pay-rate to an activity according to the to pay information defined in the activity's class.
2A: Bulk Assign Pay Rate Manually
2B: Auto-fill Pay Rate
Click on the Autofill button. This will auto-fill all the pay rates on this page according to the configured class's pay rate information.
If no class rate is defined in the classes, no pay-rate will be assigned. You will need to assign them manually.

3. Export Assigned Pay Rates

Finally, click on Export Report and select all activities.

The report generated would be similar to the one shown below.
You can export only the ATTENDED activities (i.e. a class with coach's attendance marked, or private lesson booking with status "ATTENDED"). This is helpful if you only need to pay for attended lessons.

Note
Accounting payroll functions such as super/leave loading etc are not taken into account.
The "Manage Wage" function is designed to assist wage calculation based on coaches' activities defined in the system. It is not a payroll system.
---
Configure Coach's Pay Rate
First, you would need to define each coach's pay rates. To do this, the user will need to have the user permission "Manage Pay Rate".
Click on Coaches, select to open a coach's detail.
Click Employment tab.
Enter the pay rates. You may enter up to three different pay rates (e.g. Normal Pay, Weekend Pay, Special Squad's Rate)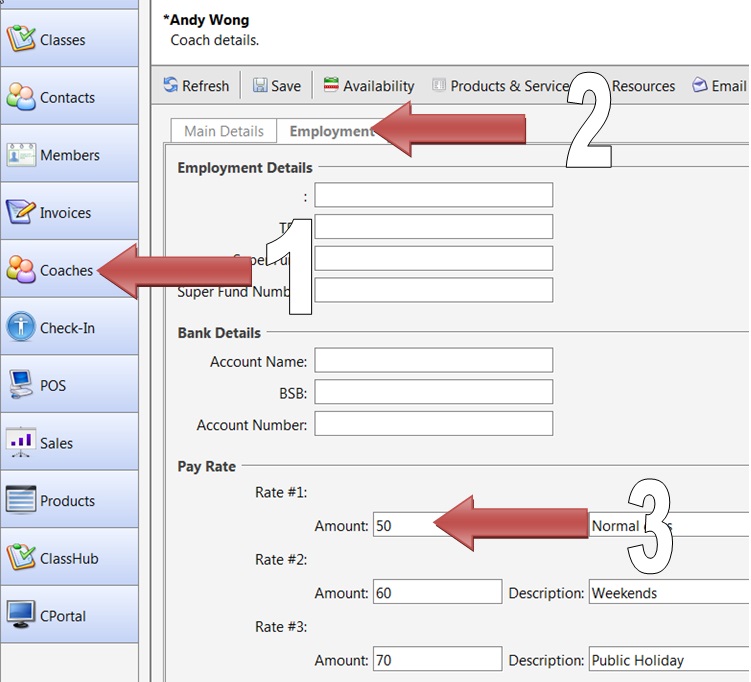 ---
Configure Class Rate
If you want to take advantage of the "auto-fill" function to calculate the pay, you will need to define the pay rate in each class.
From Class explorer, Go into a class
From the menu, Select Other and then on Select Pay Rates.
A window will be displayed to allow you enter the pay rate for the class coaches/teachers.
This defined pay rate will be used when the auto-fill function is used to assign the pay rate.